Posted 7 years ago
·

Author
Product Asset Extractor



The Product Asset Extractor is a simple program that makes it quick and easy to extract assets from your local product files (chkns) you have on your computer.

It is not a ripper, it will not grab assets from IMVU's server.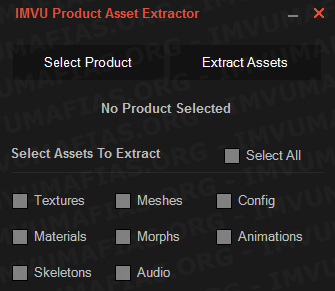 It can extract any type of asset from your chkns:
-Textures
-Audio (triggers, music etc..)
-Meshes
-Skeletons
-Configs
-Morphs
-Materials
-Animations
How To Use:
Step 1: Click the "Select Product" button.
Step 2: Checkmark the box that corresponds to the asset you want extracted.
Step 3: Click the "Extract Assets" button.
Done.
The files will get saved in a folder in the same location as the program's exe file you downloaded.
Warning
Before you download, make sure you do the following things:
Disable Windows Defender
Disable Anti Virus
If you don't, the download will be blocked and you will lose your medits.